On 02/02/2010 Geek.Kon - Madison, Wisconsin's 4-year-old festival celebrating Japanese Animation, Sci Fi, Fantasy, Gaming and more - launched a refreshed website: http://geekkon.net/. It official announced that the 2010 Geek.Kon Convention will be held September 3-5, 2010 at the Marriot Madison West (says their Facebook page: "over twice the space of last year's hotel, and easy walking distance to food!").
…Which means it's about time I wrote up my review on Geek.Kon 2009 :-O
Over 1,000 people (1,036 to be exact, according to the website) attended the third annual con that was held at the Sheraton Madison Hotel. This was down from the year before, but a good number for the first year they decided to charge admission. I was only able to attend the Saturday night events, but was able to talk with a number of guests, staff and volunteers, as well as check out a few panels and some of the other activities. Registration went very smoothly for me, and after a few introductions I headed to the main ballroom.
The Masquerade was in full swing, filling the Sheraton's ballroom with 19th century leather and goggles from the steam punk crowd, and an array of candy-colored wigs and impressive costumes and props from the anime bunch. The masquerade is a costume contest where individuals (or groups) can display their handywork to a mass audience for judging on predetermined criteria. Some choose to perform skits in character, while others simply "do their little turn on the catwalk."
Here are a few of my favorite costumes: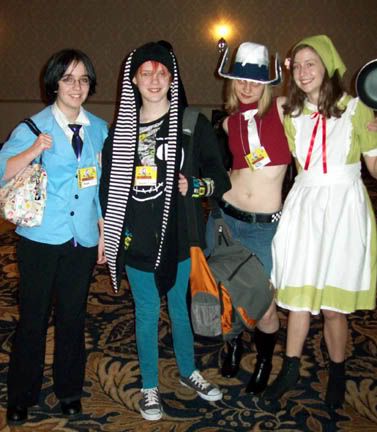 As the Masquerade broke for judging, I headed to the gaming rooms. It was there I met Chief, the volunteer in charge of the room. I asked him if there was any specific trends he had noticed during this year's crowd. Because of the social atmosphere of the convention, multiplayer games were big. These included, in an unscientifically determined order of popularity, Halo 3 and Left for Dead for the Xbox360, Mario Cart Wii and Super Smash Brothers Brawl for the Wii and Soulcalibur 4 for the PS3. Chief said he had also noticed a number of younger attendees (16-22) watching older (late 20s-30s) playing older games, and realizing that they could be fun too.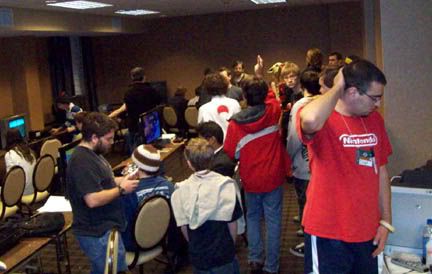 Red, who was running the LAN room, admitted that he had hoped to run some newer games, but due to a number of factors, ended up breaking out the original Halo and Unreal Tournament. "People ended up playing those and loving it. A lot of people this year say they'll bring their computers next year."

I asked Red what he thought of the stereotype of the gamer portrayed many times in mainstream media, as a hygiene -deficient, socially inept misfit. "There is a lot more socialization going on in these games than people may think," he said, also noting that gaming isn't his live, it's a hobby he enjoys. "I think more and more people are accepting of gaming as a hobby."
Another hotspot of activity was the interactive room, which included Rock Band, Guitar Hero and an import game where people hit wack-a-mole type buttons with their hands as bubbles pass on the screen.Tabletop gaming was also popular.
After gaming, I headed to a panel room to check out what was being discussed. The room I stumbled into had "Time Travel Paradoxes" as the topic. The panelists ranged from a physicist and law student to a librarian to fans just interested in the topic. They sat at a table at the front of the room, and the moderator Richard Russell took questions and directed the conversation. Things got quite deep, such as when one person asked if time travel is contradictory to relativity. The panel also delved into some complex areas, such as, when traveling through time in some sort of craft, where in physical space is that craft? After the panel, I met with Richard and asked him to talk a little about Geek.Kon.

"It's wonderful," he said, clearly happy with the weekend, "where else would you consider this stuff?" Richard is a sci fi fan from pre-Star Wars days and I asked him what has changed in the underground fandoms represented by the convention. "Sci fi is much closer to mainstream now. Out of the top 100 films, 76 of them are fantasy or sci fi. I think the best thing that ever happened to science fiction was the Trekkies. Old line sci fi fans might not like it, but Star Trek was a gateway drug to lots of people." He pointed out how creative and mindbending science fiction is, and how enthusiastic and tolerant fans of the genre seem to be.
There were 40 or so panels at Geek.Kon, ranging in topics from War of the Worlds to the anime and manga series Fruits Basket to costuming. Another one I happened upon was Live Action Roll Playing (LARPing) run by special guest and author Aaron Pavao. LARP can be confusing, as it is sort of an improvisational game of pretend (think Ren Fair but with a plot), but can best be understood by "newbies" by looking at the "How to Host a Murder" games in which invited guests take on personas and the game leader passes out hints or puzzles following an outline or script. "For the love of god," said Pavao, "start with a scripted LARP." Other advice he gave included making sure to have some sort of conflict for your players ("otherwise it's like playing a documentary, and no one likes that.") and don't make the physical space of the game too large (he gave the example of one game played at GenCon that was set in a bank vault.) Steam Century, the Madison Steampunk group, held a Murder Mystery event at Geek.Kon.

I had been excited to see the music guests Spoony Bards, but the H1N1 had cut their ranks down to 2 so the concert was more like a chamber ensemble. I missed Fermata which I really wanted to see.

This was the first time the convention had 24 hour programming. Movies and Anime played throughout the night, including Night of the Living Dead, L: Change the World, The Legend of Neil (the creator was a guest-you can watch online! Warning: adult content), Lucky Star, and more.

Two things I really regret missing were the local premiere of Nerdcore Rising, sponsored by Dane101 and the panel "What's new with Ravensoft?"

(Read my preview article for Dane101 here)

SEE YOU AT GEEK.KON 2010!