Getting ready for my sister's wedding is like planning a convention for 200 people flying, driving or motorcycling in from about 25 different states, all arriving at different times, staying at different hotels or crashing at different relitive's houses. The bridesmaids themselves live in three different states, including me, the Maid of Honor. It is not an insurmountable task to be on the executive staff of a Wisconsin wedding working remotely from Oregon, but it has been interesting!
For those of you who know me, for the last two years, the words "sister's wedding" have come up with increasing frequency, leading up to today, when they pretty much compose 75% of my daily conversation. Yes, I am almost ready to turn the reigns over to the patron saint of weddings and just jump on the old bridal train. But first, a little trip back.
Norah and Brian
met when they were teenagers. When they met, I would have been 20 (in about 1996), struggling throgh my first year as a theater major at
Viterbo College
(now university) in La Crosse Wi. I was living at home, comutting to school, not sure what I wanted to be or what I wanted to do (I certainly didn't want to do theater, and so some may ask why the hell I went to school as a theater major to which I say... stay tuned for a different blog on that!)
After a bunch of love and sweetness (and of course some trying times!), Brian proposed (after asking my Dad's permission! Awe!) on Norah's birthday (May 7th) in 2005. Yep. Two years and two months prior to their wedding date of 07/07/07.
Since then, I have written an
almost-monthly newsletter
called "The Aisle Report" for the year leading up to the wedding, I wrote a Bridesmaid-only eddition called
"The Veil Trail,"
and have planned and helped in the planing of 2 bachelorette parties. The first is being held the night after I arrive and includes a local bar-hopping tour, some fancy cocktails, and a present sent to me by my Florida sister/bridesmaid which I can't talk about here but will be awesome. The second is aboard the
Island Girl
, a Mississippi River yacht cruise! I am also working on a top-secret graphics project, in part tied into the wedding, so I can't go into that until afterwards, but I think I am finally all set with that too.
So it looks like the 10 day forecast is in the range of the 80s and 90s with a pretty low chance of precipitation. I am all packed, still have a short list of stuff to take care of (most of which will happen tonight). I've managed to keep my baggage to 2 checked (one is one of those small rolly things) and a purse and backpack. I told my fam that I will be livin' gypsy and traveling from one house (parent's, aunt's) back and forth (usually hitching a ride w/ relitives since I will be carless) to the Bride-to-be's shack. I am really looking forward to it!
WEDDING STUFS!
Current mood:
excited
Day one 6/29/2007
"The start of something big"

Our Visit w/ KH!
So our first stop on our merry journey to Wedding-land was Pizza-and-Beer LayoverLand! The Duck and I landed in Minneapolis / St. Paul, Minnesota right around 5:30 p.m. and our great friend Kristinah (I really think you should go back to adding that "H" on the end!) -- who had just quit the job that she hated (yaaa!) -- picked us up and we promptly distracted her enough to get her lost. Whoops.
We ended up at one of the Minneapolis
Pizza Luce
locations where we had good beer, great artichoke dip and awesome pizza! There was also a loud dog tied to a tree.
Us on a bench outside.
But of course the high point of the night was when we found out that we still had a lot of time before our connecting flight (which was sched. for 10 p.m. or something) and so we took a walk. We just happened to pass the very first White Castle Hamburger restaurant ever opened (c. 1921). And it is now filled with...
ACCORDIANS!
It is a very mysterious world.
When DMV and I got to LSE (La Crosse, Wisconsin airport code) at around 11 p.m. (after trying for most of the flight to write my Maid of Honor speech) we met Norah.


"Good timing," she said.
Why, I asked?
"I'll tell you later."
Turns out they had just gotten rid of the vacuum cleaner salesman!

Day 2 6/30/2007
"Crazy Wild Girl Fun"

Norah got her hair styled today to test it out before the big day. She also had a "practice veil" that my mom made which she is planning on wearing to the bachelorette party tonight: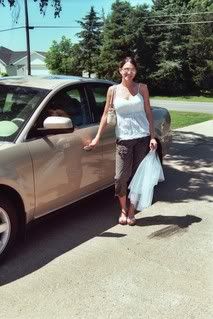 I told Norah after her bachelorette girls night out that I think this took care of my bachelorette party as well.

She said, " now I feel I can get married."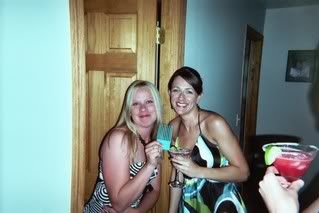 We started out with drinks at Norah's - here she is with her
personal attendant Tif and "The Pick of Destiny."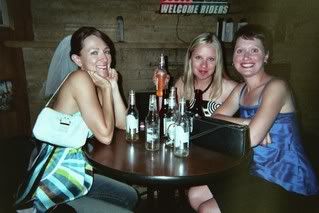 Early on we look so sober!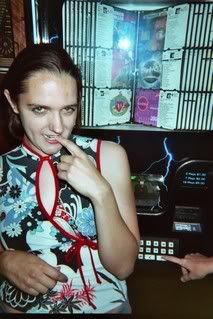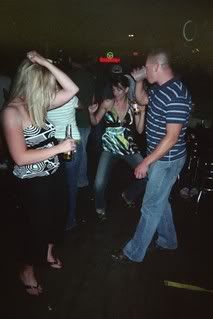 Not for long!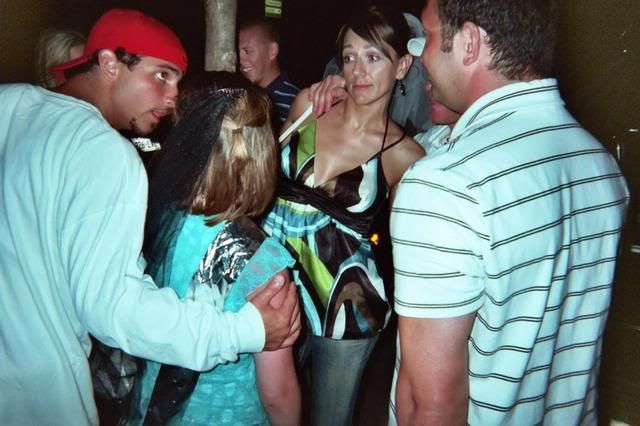 There were other brides out on bachelorett parties that weekend - and
there was almost a rumble! Just kidding. Norah could take her.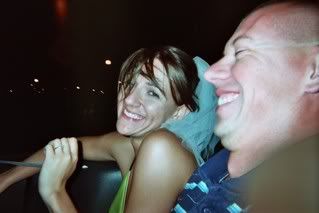 The Mustang. 'Nuf said!(I have no clue who was driving)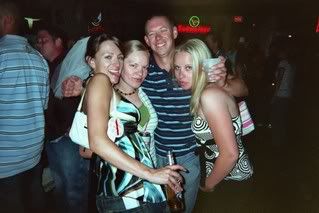 Nor, Tif's cousin, Tif's friend (who was shipping out to Afghanistan) and Tif.


I love this picture! You're such a cute drunk!


I am not.


Day 3 7/1/2007
"Off to the Homestead"



Woke up to Diesel the beagle chewing pine sap out of his toes. If that sounds unpleasant, it is even more so when you have a hangover.

Driving out to "the Homestead," my parent's place on 2 acres in Nodine, MN, I passed two Kodak Moments of rural Americana. The first was a John Deer tractor flying the stars and stripes: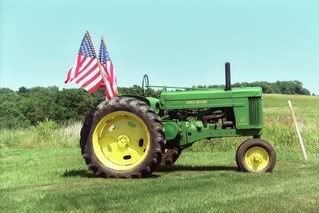 And the second was this rock announcing "Moldy Acres":


There's a saying in Nodine that "you can't fall down without you hit a Moldenhauer" since there are so many people with that last name.

Out at my parent's house, we met with Larry, my dad's friend and the MC of the reception, who - after being briefed -

5:55 p.m. - be seated
6 p.m. - intro self, band
speeches
toast
prayer
- your table will be excused
Serve 6:15
After dinner,
couples dance
father / daughter dance
Bouquet toss / Garter = first band break?

...said he'd "wing it". He has traveled the world, released a cd of stories and drives a convertible Geo Metro. He also gives historical tours of cemeteries (or at least knows people who do).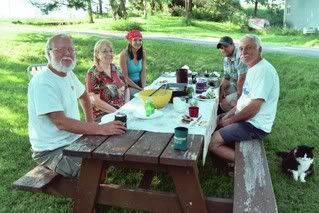 Larry, Mom, Nor, Bri, Dad, Gizmo

Norah and Brian arrived via Softail. The photo I took of that unfortunately did not turn out.

Day 4 7/2/2007
"Heading to the horse farm"

I started out the day at the parent's house. I cleaned their bathroom just to be nice (2nd one in as many days. I cleaned Norah's too). My little sister Lucy comes in today but I won't be able to meet her since I will be at my aunt Jean's: http://www.brightenridge.com/

The beer labels I created for Tony (the farmer / brewer / beekeeper / boyfriend of my aunt) turned out really good (see them here:

Neck Label
Shire Power Porter (the inspirational "Mr. January" image can be seen here.)
Curly Brew (featuring an illustration based on my aunt wearing her "scare the Amish" sunglasses!) and, in honor of the wedding, the award-winning
Honey, I Do! Brew (commemorating Brian proposing to Norah on a bridge about two and a half years ago!)
Tony took me around to show me the horses. Here's a pic of Diva and Walker -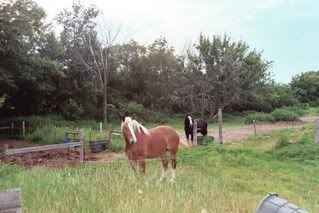 Tony drove a tractor as a huge spike on the front to carry hay. Would make a great weapon in a horror movie: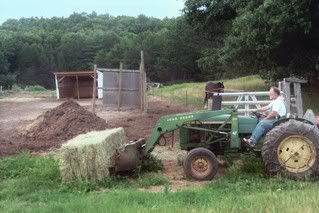 Day 5 7/3/2007
"I think I actually relaxed today"

Woke up, had fresh blueberries in soy milk with Amish pumpkin bread and honey and green tea to drink. Cleaned the bathroom and took a bath. Read about raising goats by the full moon.
When Jean took me into town, we stopped by Boarders and had an iced mocha (saddly not mint) and then went to get our nails done.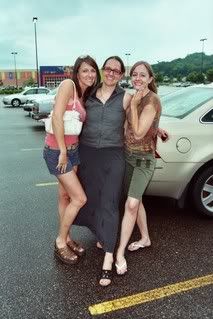 Day 6 7/4/2007
"Fourth of July!"
Great night's sleep at the parent's, except for the dream that I didn't get the info to the Island Girl (2nd "all ages" bachelorette party we're planning - on the river a yacht) and a bunch of Iranian guys filled it up.
Met our cousin's Laura, Rachel and Amanda after a morning of
program making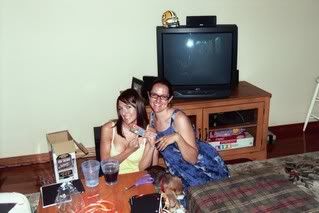 and lotto ticket rolling (reception party favors). We played hide and seek and then went for a walk. Petted a bunch of cats including Vinnie who is like 180 years old in people years: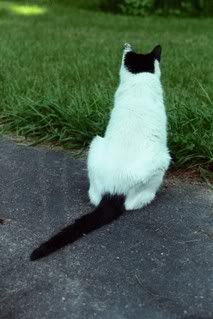 Then we went to Riverfest to eat cheese curds and watch fire works.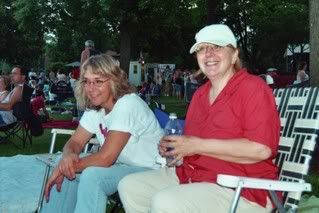 Aunt Connie and Mom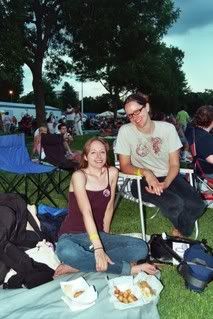 Lucy and I.
The cousins.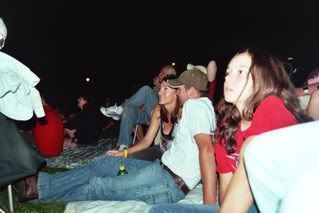 Got rained on. Aunt Linda and Uncle Ron rolled in at 11 p.m and wanted to come down to Riverfest. Nor and Brian left, as did I and Connie and the kids. Which left Lucy, Dad and pissed off, grumpy, antisocial sleepy Mom.
Still have to write my f***ing Maid of Honor speech.
Day 7 7/5/2007
"Today. Ah. Roses came."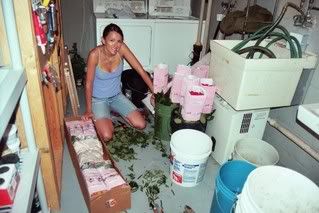 I delivered all the hotel gift bags today.Picked up 240 cloth napkins to fold. Snipped the stems off of nearly 600 roses.
Ah the roses. Norah ordered them online. Called FEdEx last night since the shipment was two days late (was due 7/3). They said it was in Memphis. Then this morning I called and was told we could pick them up at 9:15 a.m. So we did. They have been without water in a fridge so they have to soak for 5 hours in buckets. We have to create 5 bouquet's and 18 centerpieces.
Everyone helped!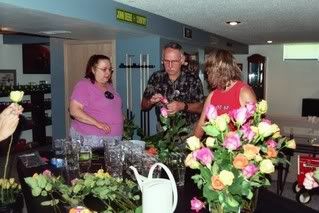 Even Uncle Ron!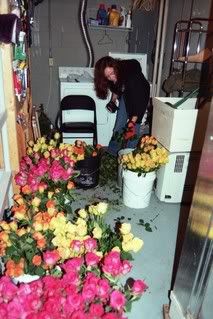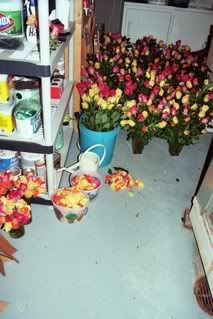 Before / After!
I went back to the Island Girl after I forgot to bring all the decorations. Then I had to drive out of the city to pick up the programs (we had them monogrammed), then back to pick up Nor then Connie had to pick up Amanda who brought Norah's "party veil." Believe it or not, we all met at the Island Girl (no Iranians in sight!) and had a great time!
These three again?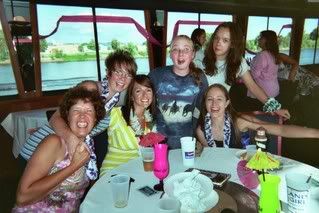 Everyone having fun!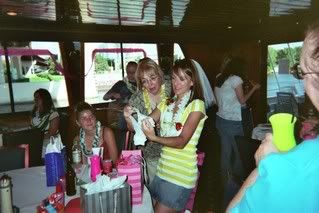 oooh! Undies!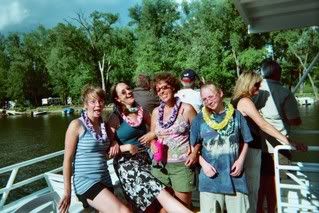 Cousin Amanda, Me, Auntie Jean and Cousin Laura
Friend Rebecca, Me, Nor, Sister Lu, and Friend Jessie (sister of Rebecca) - the Island Princesses!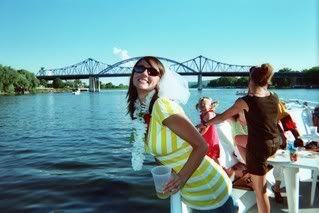 The Bride to Be in front of the world famous La Crosse, Wisconsin double blue bridge!
After drinking LaCrosse Lager and eating Rocky Rococo pizza, Nor went to Riverfest and Mom, the cousins, Lu and I went back to the Brookstone Hotel and swam in the pool. Quote of the day was when Laura said, "This rock smells like a ferret."
After that, we discussed who was going to drive what car to pick up the drunks at Riverfest for about 45 minutes and I finally went and got them w/ Lu.
Day 8 7/6/2007
"Pork tenderloin swimming in tomato sauce"
After a morning of rolling napkins:
Setting them up: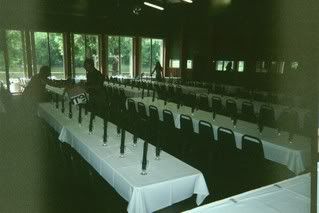 And playing with the pooch: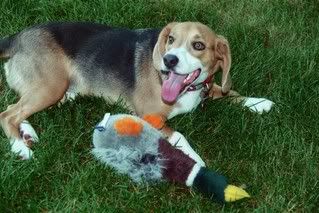 The rehearsal dinner went really fast. Biggest things were Father Tom (what an absolute ass) insulting the ring bearer and his family after Caleb couldn't make it down the isle ("He's too young. This won't work. He's not going to be here tomorrow.") But he also made Jean (Brian's aunt) who was doing the recitation change what she was going to read (after she had been practicing for days to learn the other one!) And, he wouldn't let her take the sheet of paper home. "If you have a 4th grade reading level you'll do fine." My aunt Linda called him "Father Nazi" and said that she was Aunt-Zilla and was going to take him on. Norah said "No don't ! He might not marry us!"
The food at the rehearsal dinner, given by Judy, Brian's mom, was so great. Pork tenderloin swimming in tomato sauce, potato salad, 2 kinds of jello salad - one with marshmallow, one with coconut, plus strawberry jello, bread, bars, chocolate brownies, chips and dip, beer and more. Everyone is here. Aunts, uncles, friends of the family, cousins. My aunt Donna (biker name "short round") and her husband Mike who drove in on their Harley's from Maryland.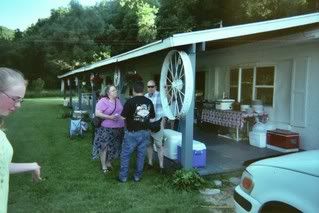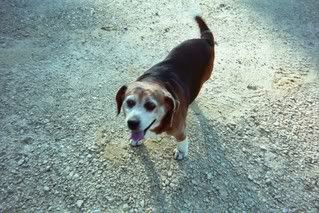 The other family beagle, Copper.
We are not sure who is going to take flowers to the reception hall or pass out programs yet. We have to make boutonnières tonight. We put all the candles and napkins into the hall:
I still have to finish my speech.
And the wedding is tomorrow.
Oh and my cellphone just broke.
Day 9 07/07/2007!!!
"The Big Day!!!"
Nor and I started the day by doing stretches in the morning because we both felt the trauma of stress. We had a nice morning, but kept reminding ourselves that it wouldn't last.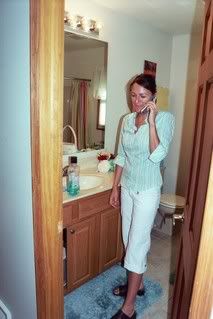 Talking to Mom the morning of.
Aunts and cousins came to transfer the flowers. Linda tripped going up the stairs and Norah said it was a wakeup call for everyone to take it slow. The vases took off, the dresses were loaded into the car and Nor, Mary and I took off. We finished up at the reception hall - all very smooth making good time. Tif (Norah's personal attendant) was awesome. We and the other bride's maids - Lu, Stacy, Belinda and Charity - all went to get our hair and makeup done at the salon. Put some gas in Nor's car, ordered subs to be delivered to the chapel so we didn't all die. The girl who did my make-up was the same girl who was bartending at Longhorns on Norah's bachelorette party!
The most hilarious thing of the whole day (except for Father Nazi who deserves a whole post to himself - Norah said whenever she felt like crying "just think of Father Tom!") was the fact that our dressing room (blessingly air conditioned!) was a nurse's training room during the day, so there were tons of CPR mannequins all over the place covered in sheets! Our little flower girl got semi-freaked out by an IV bag that still apparently contained a rusty-colored liquid.
Mom came in and fixed Charity's dress strap (she had also hemmed Caleb's - the ring bearer- pants the night before) After we were all ready, the photographer staged a place where Brian could see Norah in her wedding dress for the first time. They had their "moment" then it was off for more photos. Father Nazi rattled his swords at Steve the photographer (who, after asking, "Is there anything I need to know," was told, "yes. Stay out of my way.")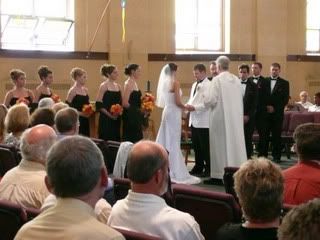 Needless to say, the ceremony went off without a hitch. Caleb and Cali did great, Nor didn't cry too bad, nor did Dad. I got yelled at by Father Tom for moving Norah's train ("Leave it! Leave it!") in the middle of the ceremony, but it just gave Norah more hate to stave off the tears.
Honestly, do any of us look like we belive one word this guy says?
We rode two massive black diesel pickup trucks from the wedding to the reception. Larry did great as the MC, the little lotto tickets and year 2007 pennies on the table were a big hit (some of the winners ended up in the card box!), my Dad gave a great speech (what a guy!) and then there was a prayer. Grandma on Brian's side copped out (she's the one who has her own chainsaw named Suzy. She also had hurt her foot after an unfortunate event involving - according to a telephone note Brian wrote - slipping on an apple pile and some dog crap and crawling to the house). So Brian had to spring it on another aunt who pretty much said "Bless us oh Lord, bless this food, bless Norah and Brian Amen!"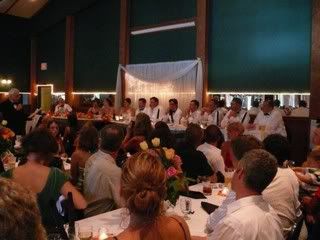 Dad says his speach. The head table looks on.
The Groomsmen said some words which can't be repeated, there was some clinking of glasses, some kisses, and my speech. After dinner, which was delicious, we mingled and eventually made it out to the parking lot and Tony's pickup, the back of which was filled with his home brew! Then - Dancing!!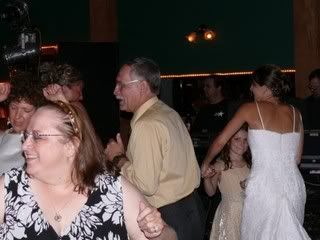 Aunt Denise, Dad, Aunt Jean, Mom, "Aunt-Zilla" (aka Linda), Uncle Ron, Nor
Before we knew it, it was time to clean up. Nor and Bri headed off to their honeymoon suite and Donnie and I had to take them their overnight bag which they had left behind. Then the day was over.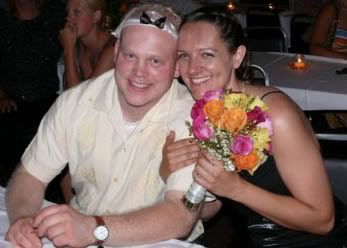 (oh yeah. Donnie caught the garder, and I caught the bride's bouquet.)
Day 10 07/08/2007
"Gift Opening"
We dragged our sleepy asses out of bed and to the present opening.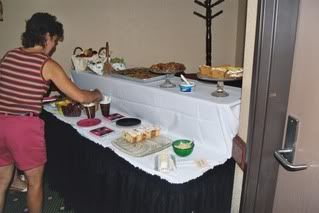 I ate some of Grandma's coffee cake and some fruit. Norah got some great stuff, including an afghan made by Grandma Marie, who had died earlier this year. She also got some recipes and some heirlooms in memory of Grandma Bartash.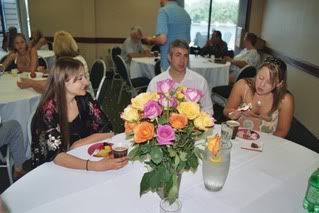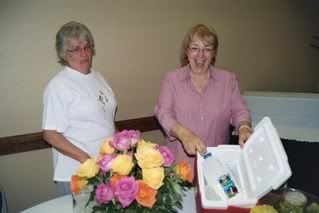 I don't know why my mom is so excited about the milk.
Donnie and I went back to Nor's hoping to take a nap before heading over to the parent's place, but we were locked out and it was 90 degrees. We got a fan out of the garage though, and made the best of it.
Day 11 7/9/2007
"Honeymoon!"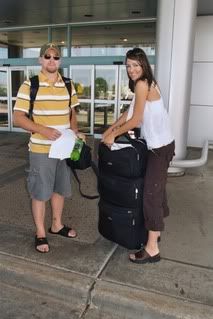 Woke up and Norah and Brian were still packing for their honeymoon. Donnie and I fly out at 12:40 p.m., Lucy at 11:10 a.m. and Norah and Brian 10:45 a.m. We got to the airport at 10:15 and realize that Norah and Brian cannot check their bag (I was so proud of them for only having one.)
1.) They rang the bell at the check-in desk and no one came
2.) At the LaCrosse airport, you can't check bags at the gate
3.) The bag is too big to carry on (and includes liquids since they thought they'd be checking it!)
4.) Because they have a layover in Chicago, there's nothing they can do.
So, we get them on the flight with just carry-on and we FexEx the big bag to reach them at their hotel.
We find out later that they were stuck on the tarmac at Chicago (due to thunderstorms in Iowa) for 5 hours! Long enough for the plane to have to refuel. Funniest thing was that the lady at the FedEx place was the same lady who had to hear the sob story about the roses being delayed - and her son is getting married and having an even bigger wedding! To ship the Sampsonite bag, by the way, they had to dump out a box of FedEx boxes and use the one they came in.
Final thoughts:
Wedding Don'ts and Dos!
Don't -- fall up the stairs while carrying flowers
Don't -- hide your tattoo
Don't -- forget to eat and hydrate (h2o = friend)
Don't -- miss out on the chance to play hide and seek and go swimming with your younger relatives
Don't -- watch R rated movies with said younger relatives (unless they star Johnny Depp!)
Do -- let your cousin catch the bouquets
Do -- check into the airport 70 minutes early
Do -- have family, friends help with the decoration and flower displays
Do -- let Aunt-zilla at Father-nazi
Do -- send drunken text messages to your friend from the bathroom of a country western bar during the bachelorette party (it will freak out the bridesmaids and amuse the friend)